SUMMARY
During a devastating heat wave, four young teenagers are kept in the safest shelter, as they contemplate life, and risking it to leave.
CAST & CREW
Yukihiro Suda- Julio
Judy Hanna- Katherine
Timothy Yung- Ralph
Richard Davis- Roger
Director of Photography- Eric T. Jones
Camera- Eric T. Jones
Camera- Aniket Das
Camera- Sean Carpenter
Camera- Yukihiro Suda
Editor- Eric T. Jones
Editor- Richard Davis
Producer- Aniket Das
Writer- Richard Davis
Director- Richard Davis
PRODUCTION NOTES
As early as 2005, Aniket had an idea for a creative collaboration that would be titled "The Suite". We would be free to write anything we want, except that it was stuck inside our then-common location of the Clubhouse, and two simple rules:
1. Four friends decide to spend a weekend in a suite.
2. Only one person will leave on Monday morning.
The idea would come back again early the next year, and at the end of March, five of us turned in scripts:
-Sean's was about a hotel with an odd regiment for its staff
-Kevin's was a slasher flick
-Richard's was about four people in a shelter
-Mine was completely mute with four friends who refuse to speak
-Aniket's was about four robbers whose latest heist slowly drives them mad
Filming was slated for Spring Break, by which time Sean dropped his segment from production. Me, periodically reading everything about how the professionals make movies, had a then-recent obsession with shooting multi-camera, and that approach is how we ended up shooting most of the segments. It was time-consuming to set up, tedious, and mostly unnecessary. Video quality was also mixed due to using my then-new Optura 60, Richie's Optura 20, and the old "Fight Movie" camera-- which, as it turned out, was the best option for low-light filming.
Richie's segment was the first to start filming. I started filming my segment, but was continually disillusioned with the results and went out of my way to delay it. By the end of the week, Richie's was finished. By next month, a complete cut was made.
Cut to the summer vacation in August, and we resume filming by way of Kevin's segment, as well as Aniket's.
Due to the usual cause of illness- scheduling conflicts- and other factors, none of the other segments ended up being finished. Richie's segment would be on the shelf until the others would be finished... each month making it seem less and less likely that it ever will. Judy had kept her hair the way it was for continuity purposes, but eventually we just let her cut it.
Not wanting to let a completed project go to waste, we have therefore decided to release Richie's segment, which he titled "Safehouse".
Aspect Ratio- 1.85:1 [16x9]
Initial Filming Date- 18 April 2006
Filming Wrap Date- 20 April 2006
Release Date- 29 July 2008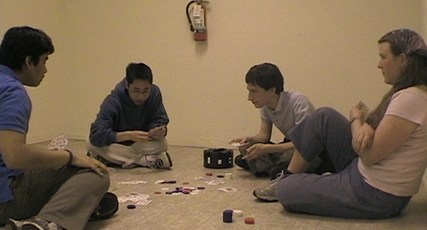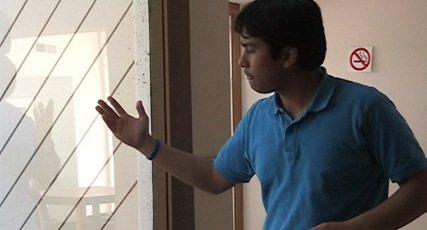 (c)2002-2009 Dead Moose, Inc.